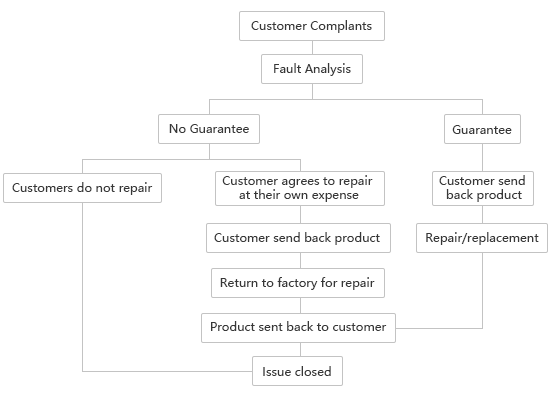 The customer submits an application for after-sales service, and the customer service submits the application form to the quality engineer. The quality engineer determines whether the failure of the goods is covered by the warranty according to the "Return and Exchange Terms", basing on the relevant pictures and descriptions provided by the customer.

1. Within the warranty:
CubeMars offer free repair service. After the customer returns the item by self and provides the tracking number, the item will be sent to the CubeMars distributor/agent/factory and CubeMars will arrange for a free repair.
2. Not covered by warranty:
1). The customer does not pay for the repair, the after-sales service application form is cancelled and this after-sales service is terminated.
2). Customer decides to repair at his own expense, he needs to send the repaired goods to CubeMars distributor/agent/factory, CubeMars will test the system of the repaired products, feedback the failure point to the customer, CubeMars will give the repair price according to the repair situation, and the customer will pay the repair cost. After the repair work is completed, CubeMars will send the product to the customer and the return shipping cost will be borne by the customer, then this after-sales service will be terminated.